Börsdata Terminal
Our jurney to create the Nordic region's best tool for stock analysis.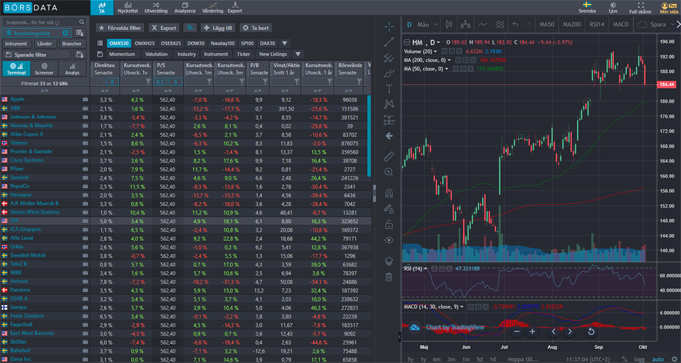 We have rebuilt the entire platform in the latest technology with the focus on the entire analysis being done on the same page. Everything starts with the screener and the companies you filter out.
Now the entire width of the screen is used to display much more information. You can have up to 30 ratios in the screener and we will add a lot more data and functions.
It should be quick and easy to create watchlists and saved filters. Here we have spent a lot of time on improvements. You can also share watchlists and saved filters with your friends through quick links.
Open the terminal See our Youtube channel for all movies
Screener
Powerful screener with up to 30 key figures at the same time.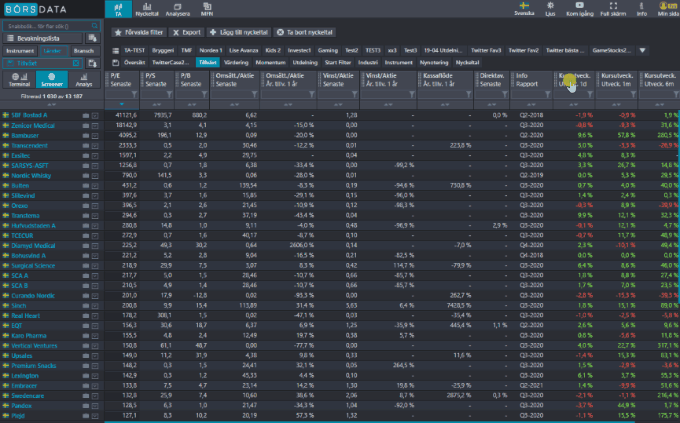 Export your Screener data to Excel or Csv
Continue working in Excel and build your own analysis dashboard
Save all screener data, with your watchlists to Excel.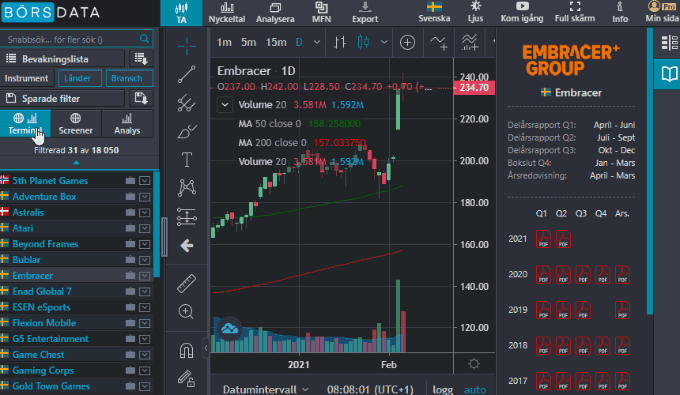 Export detailed company information to Excel or Csv
Download up to 20 years of Report Data, stock prices and historical key figures to Excel.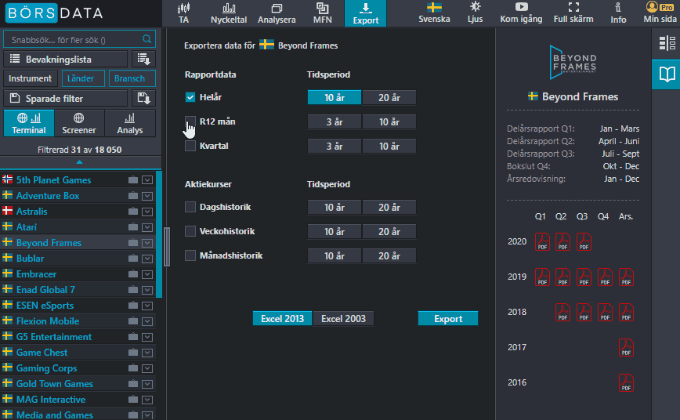 Filter out your companies
Select countries, lists and industries. Save your filters with key figures.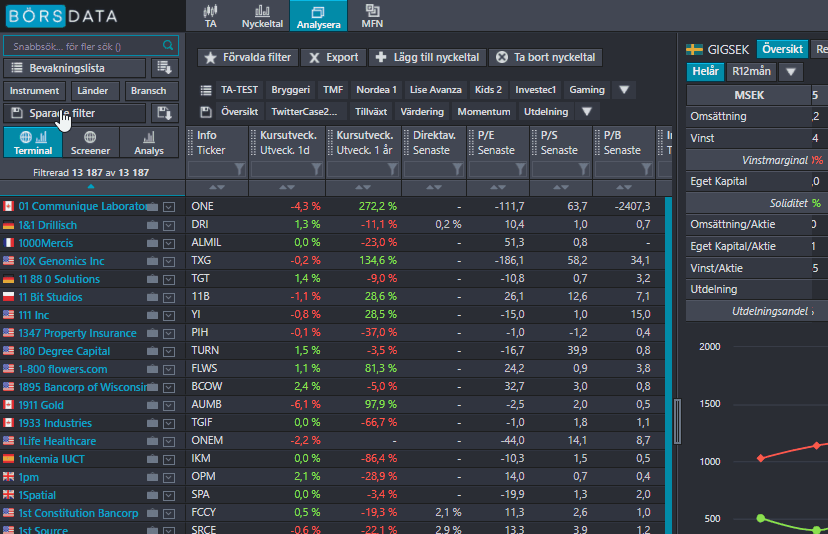 Technical analysis (TA)
Intraday with 15min delay. Indicators such as MA, RSI and MACD. Save your drawings.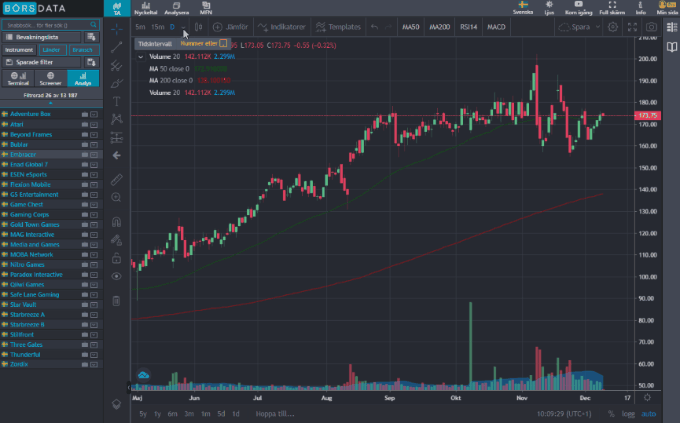 Analyze Report data
Detailed report data. Up to 20 years of history. Percentage change and color scale.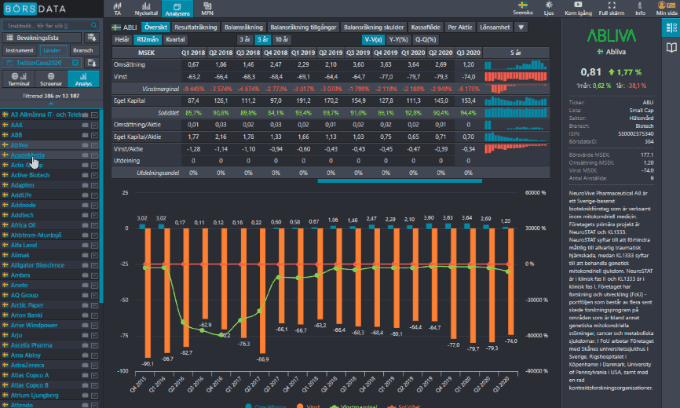 Company reports
Now you can quickly read the companies' reports with up to 10 years of history. Do not miss important information such as the CEO's comments and detailed market data.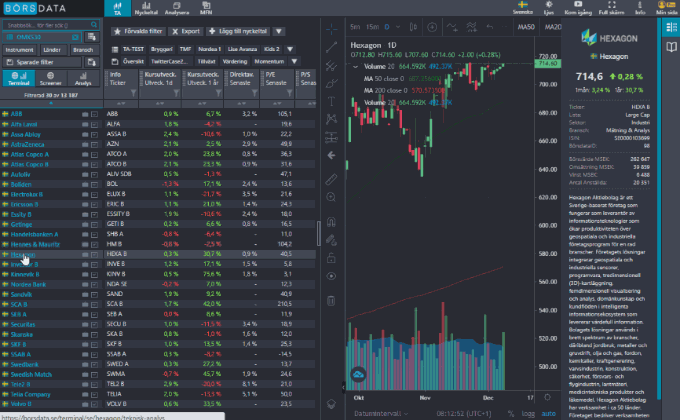 Mfn - in collaboration with Modular Finance
MFN is Sweden's leading service for press releases. You will now find all press releases for your companies directly in Börsdata Terminal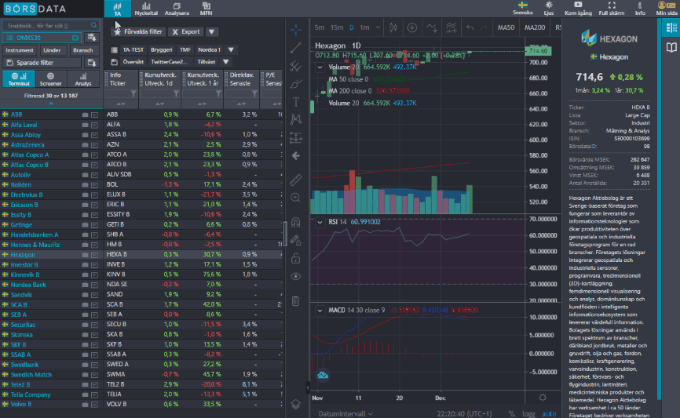 FAQ
Does my login work with the Terminal?
Yes. It's the same login. If you log in to Börsdata, you will also be logged in to the terminal.
Is the terminal mobile-friendly?
No. Our focus is to build a great desktop experience. A mobile adaptation of the Terminal is very difficult and requires that we compromise what we can use in the desktop.
Do my watchlists work in the Terminal?
Yes. The watchlists are the same. You can switch between Börsdata and the Terminal.
Do my Saved Filters work in the Terminal?
No. Börsdata and the Terminal cannot share Saved Filters.
This is because the Terminal save more data and have different versions of Saved Filters.
Does the Terminal have the same price and data as on Börsdata?
Yes. It is the same data and permissions in the Terminal.
If you are Premium or Pro, you have access to the same data in the Terminal as on Börsdata.