Pdf reports
Read company reports
Here you see the company's report periods, and the reports that the company has published. Click on a report to open the pdf reader. You can also download the pdf report and save locally on your computer.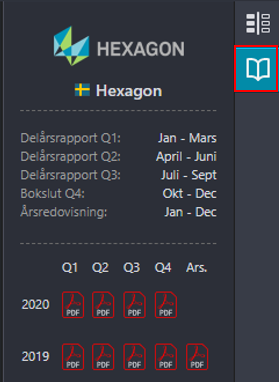 Pdf reader

Close the side menu.
Search for a word or sentence
Scroll page
Zoom in and out. Auto fit adapts the page to your screen.
Full screen
Download the file locally to your computer
Close the pdf reader
Global reports
We have reports for the US market. These are in a standardized format reported by US companies.
Other Global markets do not have reports.
Collection of report data
At Börsdata, we collect all reports for Nordic companies ourselves. This means that we monitor when companies release their reports. We download the report from the company's website and enter report values into our system.
Number of reports per year
Most listed companies release five reports a year. One full-year report and four quarterly reports.
With about 2,000 companies on the Nordic stock exchange, we download and process about 10,000 reports per year. Today we have over 50,000 reports in our system.