50+ Technical Indicators
At Tradingview you can find over 50 technical indicators that can easily be added and customize as Desired.
There is no limit to the amount of indicators you can have on the same chart.
You can also select several of the same indicator if, for example, you want different time intervals on (MA) moving average.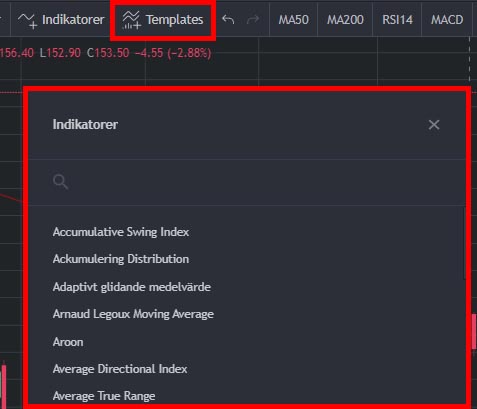 Change and adjust settings
By clicking the Settings button directly in the diagram, you can easily fine-tune time, color, style and more.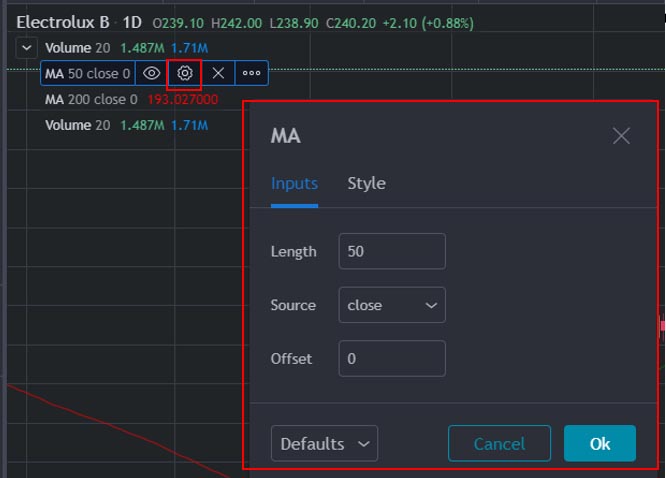 Most popular indicators
Moving Average
RSI - Relative Strength Index 
Momentum 
MACD 
Parabolic 
Bollinger Bands
All available indicators on Tradingview
Here are all 58 indicators available. 
Accumulation/Distribution
Advance/Decline
Arnaud legoux Moving Average
Aroon
Average True Range
Awesome Oscillator
Balance of Power 
Bollinger Bands % B
Bollinger Bands With
Chaikin Oscillator
Chande Kroll Stop
Chande Momentum Oscillator
Choppiness Index
Commodity Channel Index
Coppock Curve
Correlation Coeff
Directional Movement Index
Donchian Channels
Double Exponential Moving Avearge
Ease of Movement
Elders Force Index
Envelope
Hull MA
Ichimoku Clould
Keltner Channels
Klinger Oscillator
Know Sure Thing
Least Squares Moving Average
Linear Regression Curve
MA Cross
MACD
Mass Index
Momentum
Money Flow
Moving Average
Moving Average Exponential
Moving Average Weighted
Net Volume
On Balance Volume
Parabolic SAR
Price Oscillator
Relative Strength Index
Relative Volatility Index
SMI Ergodic Indicator/Oscillator
Stochastic
Stochastic RSI
TRIX
Triple EMA
True Strength Indicator
VWMA
Volume
Volume Oscillator
Williams % R
Williams Alligator
ZigZag