Kpi table
The Kpi table shows you the most important key figures. It gives you a quick and easy overview of the history of each key figure.
For most companies with enough reports, you can access 10-20 years of historical records.
Key figures overview
The overview group is open to everyone, but the other four groups require Premium membership. Each key figure is clickable and opens compare industry.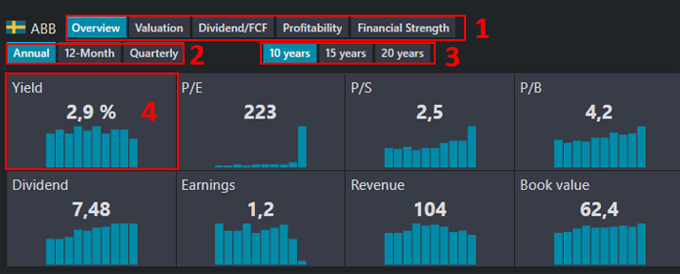 Five different groups of key figures.
Select the report type to be used in the key figure calculation.
Select time period. (15 & 20 years require Pro membership)
Shows a key figure, latest value and history.
Click on a Key figure to open compare industry.
Up to 20 years of history for Pro
As a Pro member, you can opt for a review of 15 and 20 years worth of data.
Update of key figures
The key figures are updated quarterly in connection with when the companies release their interim reports and financial statements.
Share prices are updated daily. This always provides current and updated key figures. The latest key figure value is always calculated on a trailing 12-month basis. This means that it is calculated on the basis of the four latest rolling quarterly reports and the annual financial statement.