The Nordic largest owner database
Owner data is information about who is the biggest owner in the company. Owners can be other companies, funds, institutions or private individuals.
As an investor, this is interesting as the ownership says a lot about the company itself. This can have a major impact on an investment decision. Are there recognized talented owners in the company that I want to invest it long term?
You can also get answers to other questions such as whether institutional ownership is low today, which can mean a great deal of buying pressure on the day when the institutions open their eyes to the company?
High quality
Owner data can seem trivial, but can in many cases be complex to derive. This applies in particular if the foreign ownership is large or if e.g. someone owns shares both privately and through companies.
Modular Finance has been offering quality-assured ownership data through its owner database Holdings since 2015, data that can now also be found in Börsdata.
By working against many parallel data sources as well as several manual elements for both data collection and quality assurance, as complete owner lists as possible are achieved with the best update frequency.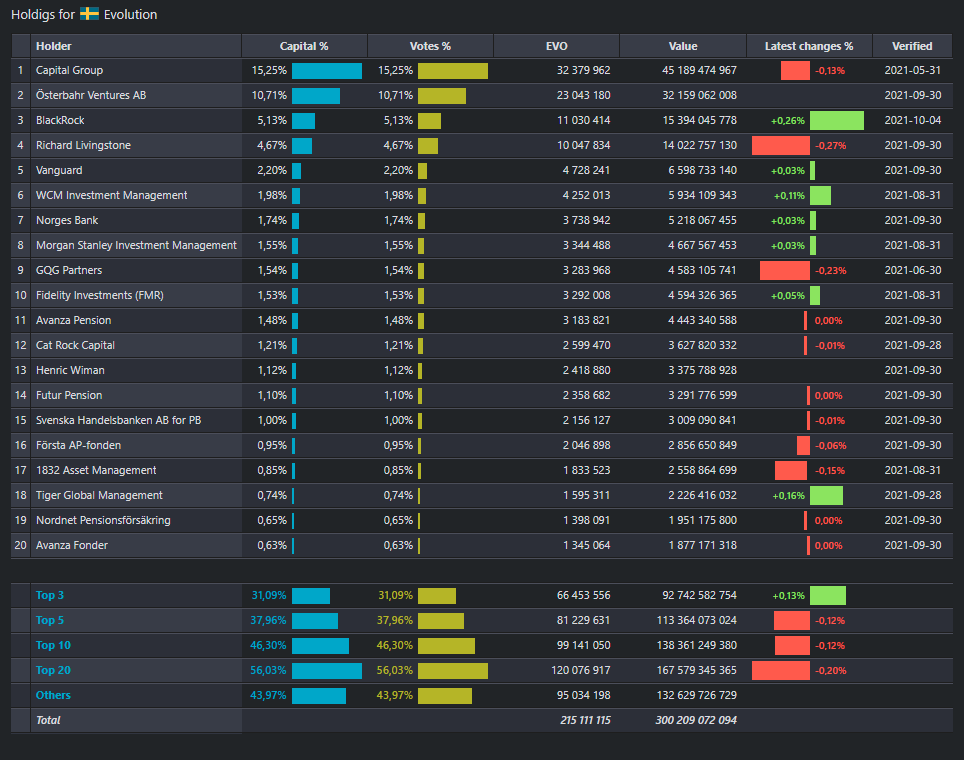 About the service
At Börsdata you will find the 20 largest owners. How much of the company they own in each share class and what proportion of votes. You also see the latest change, if the owner has bought or sold shares.
Capital %
How much of the company's market capitalization the owner holds.
Votes %
How large a share of the company's votes at the Annual General Meeting to which the owner is entitled.
A, B, C, D and Pref shares
For example ASSA A, ASSA B. A company often has several types of shares where A shares have more votes at the general meeting. B-Shares are what are usually traded on the stock exchange. If the company shows only one ticker name, the company has one class of shares.
Value
Number of Shares * Stock price. Shows the value in the company's currency.
Recent change %
The recent time the owner sold or bought shares. If value is missing, there has been no change for several years.
Top
Summary of top owners to quickly see how much of the company they own.