Screener
The screener is the heart of Börsdata. Here, you can filter thousands of companies and whittle them down your preferred establishments. The screener consists of several parts as described below.
Overall description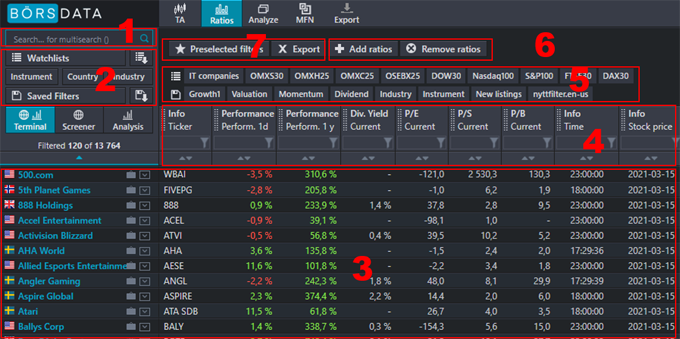 Search
Filter
Screener list
Key figures
Quick filters and watchlists
Add Key figures
Default filters and Screener Export
1. Filters - instruments, countries & industry
Under Instruments, Countries and Industry, you can filter companies to only show those of interest to you. Open the window and select the countries or industries you want to work with.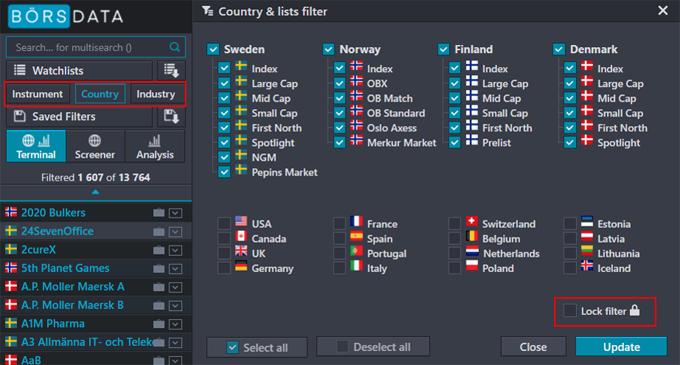 The Lock Filter button locks your settings so that they do not change when you change Saved filter.
2. Screener list
All companies are shown here.
You can filter or use your watchlists to limit the number of companies. You can see up to 30 key figures at a time.
3. Key figures
Displays your current key figures.
You can drag these to change order.
Tap the name to change key figures.
Filter by Lowest and Highest value.
Sort.
Sort key figures
Sort by highest and lowest value.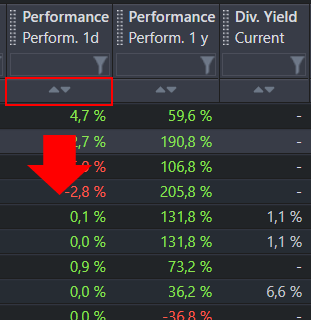 Filters key figure data
Filter a key figure so that you can only see values that are within Min and Max values.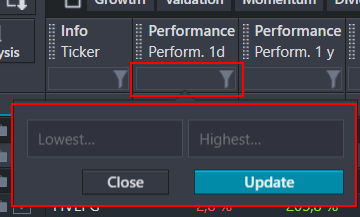 4. Quick filter
Shortcuts for changing watch lists (top row) and saved filters (bottom row). There are a number of finishes that you cannot change. When you create your own, they first appear in the list.
5. Add Key Figures
Press Add Key Figures to open the Key Figures window.